Love Kona? Our Top 10 Hawaiian Coffee Shops (2023)
11 min read
Discover the top 10 Kona coffee shops in Hawaii and explore the history, science, and cultural significance of this treasured Hawaiian commodity.
the Best of Hawaiian Kona Coffee Shops
Coffee; it's a drink that smells like magic and tastes like Christmas morning. It's the fuel that drives us through long days and never-ending to-do lists. But, have you ever wondered where your coffee comes from? Well, let's take a journey through the world of Kona coffee and explore the top 10 Kona coffee shops in Hawaii.
What is Hawaiian Kona Coffee?
It's a special kind of coffee that comes from the beautiful slopes of Kona, Hawaii. People love it for its amazing quality and unique taste. Kona coffee grows in the rich volcanic soil and enjoys plenty of rain and gentle sunshine in the Kona region. When you sip a cup of Kona coffee, you'll experience its smooth and rich flavor with hints of caramel, chocolate, and a touch of fruitiness. It's medium-bodied and has a low level of acidity, making it a favorite for coffee lovers. The term "Kona coffee" is strictly regulated, so you can be sure you're getting the real deal.
The History Behind Kona Coffee
In the Hawaiian Islands, Kona coffee has become a treasured commodity. The first coffee trees were planted in Kona around 1828, and it wasn't long before coffee became a staple crop in the region. By the 1900s, Kona coffee was known worldwide for its rich flavor and high quality. Today, Kona coffee is a symbol of Hawaiian pride and tradition. It all began in the 19th century when the fertile volcanic soil and ideal climate caught the attention of explorers, who recognized the region's potential for growing exceptional coffee.
The first coffee trees were planted, and a legacy was born. Over the years, Kona coffee gained renown for its exceptional quality, with beans carefully hand-picked and sun-dried to perfection. The unique combination of volcanic soil and gentle Hawaiian climate yielded a distinct flavor profile, characterized by a harmonious blend of caramel, chocolate, and fruit notes. Today, the rich history of Kona coffee continues to thrive, honoring the traditions and expertise passed down through generations.
What Makes Kona Coffee Unique?
What makes Kona coffee unique is the combination of its climate and soil, which produces a flavor that cannot be replicated anywhere else in the world. The coffee trees are planted on the volcanic slopes of Mauna Loa and Hualalai, which provide nutrient-rich soil and a mild climate. The beans are grown at elevations between 500 and 3000 feet, maximizing their exposure to the sun while minimizing contact with clouds or direct moisture.
Top 10 Kona Coffee Shops in Hawaii
Holuakoa Café
This cozy café is located in the heart of Kona and is famous for its locally sourced organic coffee and farm-to-table menu. Discover a hidden gem in the heart of Hawaii's Holualoa Village – Holuakoa Café. This charming café offers a tranquil escape and exceptional cuisine, making it a must-visit for locals and tourists alike. With a rustic ambiance and friendly staff, you'll feel right at home as you indulge in delightful breakfast, lunch, and dinner options.
Don't miss their exquisite farm-to-table dishes that celebrate the flavors of Hawaii, complemented by the finest Kona coffee. Holuakoa Café is your ticket to paradise in the midst of breathtaking landscapes.
Greenwell Farms
This family-owned farm has been producing coffee since 1850. They offer free tours of their farm and have an extensive line of coffee products, including their signature Kona blend. Greenwell Farms is a coffee lover's haven nestled in the heart of Kona, Hawaii. With a rich history dating back to 1850, this family-owned estate has perfected the art of growing and roasting exceptional Kona coffee.
From the moment you step onto the lush grounds, the fragrant aroma of freshly roasted beans envelops you. The friendly staff takes pride in sharing their passion for coffee, offering guided tours that take you through the entire coffee-making process, from bean to cup.
The tasting room provides a sensory journey, allowing you to savor the distinct flavors of their handcrafted coffees. With breathtaking views of the Kona countryside, Greenwell Farms is a destination that will ignite your love for coffee and leave you with a deep appreciation for the artistry behind each cup.
Kona Coffee and Tea Company
This café offers a wide selection of coffee, tea, and breakfast options. They also have a beautiful outdoor seating area with views of the surrounding landscape. Discover a coffee lover's paradise at Kona Coffee and Tea Company. Located in the heart of Kona, Hawaii, this establishment is a haven for those seeking exceptional Kona coffee and a warm, inviting atmosphere.
With a history rooted in the rich traditions of the region, the friendly staff takes great pride in sharing their passion for coffee with visitors. Take a leisurely stroll through their charming café and roastery, where the aroma of freshly roasted beans fills the air. Indulge in a cup of their expertly brewed Kona coffee or explore a variety of tea options for a refreshing change.
With its relaxed ambiance and dedication to quality, Kona Coffee and Tea Company offers a delightful experience for coffee enthusiasts and tea lovers alike.
Maui Coffee Roasters
While not located in Kona, this Maui-based coffee company has a reputation for producing some of the most delicious Kona coffee around. You can order their products online or visit one of their two retail locations.
Maui Coffee Roasters is a coffee lover's dream come true nestled in the tropical paradise of Maui. With a commitment to sourcing the finest beans from around the world, this roastery and café offers a delightful experience for both locals and visitors. As you step into their welcoming space, you're greeted by the enticing aroma of freshly roasted coffee beans.
The knowledgeable staff is passionate about their craft and is always ready to guide you through their extensive selection of coffees, from smooth and balanced blends to bold and rich single-origin options.
Whether you choose to enjoy your cup of joe in the cozy café or take some beans home to brew, Maui Coffee Roasters promises an exceptional coffee experience that will transport you to coffee heaven amidst the breathtaking beauty of Maui.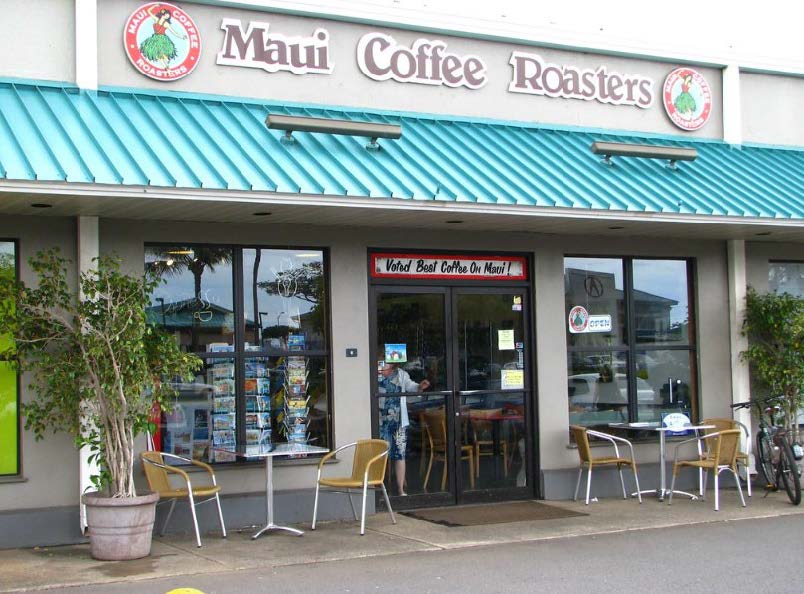 Mountain Thunder Coffee Plantation
This plantation offers tours of their facility, a gift shop filled with coffee-related items, and a tasting room where you can sample their unique blends. Nestled amidst the lush landscapes of Hawaii's Big Island, Mountain Thunder Coffee Plantation is a haven for coffee enthusiasts and nature lovers alike.
As you explore the plantation, you'll witness the journey of coffee from seed to cup, surrounded by breathtaking views of the volcanic mountains. The passionate team at Mountain Thunder is dedicated to producing high-quality, organic coffee using sustainable farming practices.
Take a guided tour and learn about their innovative coffee cultivation techniques, including their unique cloud-forest growing method. Indulge in the rich flavors of their hand-picked, sun-dried beans as you sip a freshly brewed cup in their inviting café.
With a commitment to preserving the natural beauty of the island, Mountain Thunder Coffee Plantation offers an unforgettable experience that celebrates the perfect blend of coffee and nature.
Kona Joe Coffee
This coffee farm has won numerous awards for its high-quality beans and innovative production methods. They offer tours and tastings and have an on-site café where you can enjoy their products. Situated on the slopes of the Mauna Loa volcano in Hawaii, this family-owned coffee farm cultivates some of the finest coffee beans in the world.
With meticulous attention to detail, Kona Joe Coffee employs a trellising system that allows the coffee plants to thrive in unique horizontal rows, creating an extraordinary visual spectacle. As you explore the farm, you'll learn about the art of coffee cultivation and the intricacies of the harvesting process. Indulge in their rich and flavorful Kona coffee, lovingly handcrafted from bean to cup.
Experience breathtaking views of the Pacific Ocean and the aroma of freshly roasted coffee permeating the air, Kona Joe Coffee offers an unparalleled experience that will leave coffee enthusiasts yearning for more of Kona's exceptional brews.
UCC Hawaii Kona Coffee Estate
This estate is home to the oldest coffee orchard in Kona. They offer tours, tastings, and an on-site restaurant that features dishes made with locally sourced ingredients. With a commitment to preserving the heritage and authenticity of this renowned coffee-growing region, UCC Hawaii meticulously cultivates, harvests, and processes their beans to perfection.
From the moment you step foot on the estate, you're transported into a world of lush greenery and captivating coffee aromas. Join a guided tour to witness the coffee-making process firsthand, from the vibrant coffee cherry to the carefully roasted beans.
Having a cup of their meticulously brewed Kona coffee, savoring its smooth flavor and delightful nuances. With its commitment to quality and respect for the land, UCC Hawaii Kona Coffee Estate offers a captivating experience that truly captures the essence of Kona's finest coffee.
Hula Daddy Kona Coffee
This family-owned farm offers tours and tastings of their award-winning coffee. They pride themselves on their sustainable farming practices and attention to detail during the roasting process. Situated in the fertile volcanic slopes of the Kona region, Hula Daddy cultivates and hand-picks their coffee beans with meticulous care and dedication.
From their sun-drenched fields to their state-of-the-art roasting facility, they ensure every step is infused with passion and expertise. With each cup, you'll discover the rich and complex flavors that make Kona coffee truly exceptional.
With a selection of single-origin selections and unique blends, Hula Daddy delivers a dance of flavors that will enchant even the most discerning coffee connoisseurs. Treat yourself to a taste of Hawaiian paradise with Hula Daddy Kona Coffee and let your taste buds indulge in a symphony of flavors that will leave you craving for more.
Island Lava Java
This popular Kona café serves breakfast, lunch, and dinner, as well as a wide selection of coffee drinks. They also have a retail store where you can purchase coffee products and souvenirs. Located in the heart of Kailua-Kona, this inviting café offers a warm and welcoming atmosphere, inviting you to unwind and savor the best of Hawaiian coffee.
Island Lava Java takes pride in sourcing locally grown beans, ensuring a taste that captures the essence of the islands. Each cup is a celebration of the rich and diverse flavors found in Hawaiian coffee. Whether you choose to enjoy your brew in their cozy café or take some beans home to brew your own cup of paradise, Island Lava Java Coffee promises an experience that combines the finest coffee with the true spirit of aloha.
Why Choose Kona Coffee?
As our world becomes increasingly interconnected, it's important to remember the value of community-based products like Kona coffee. Supporting local farmers and businesses not only strengthens our communities but helps to preserve cultural traditions and practices. By choosing to drink Kona coffee, we are choosing to support sustainability and the preservation of the environment.
Which is the Best Hawaiian Coffee Shop?
When it comes to Kona coffee, choosing the best shop can be a delightful challenge. The Kona region of Hawaii is home to a multitude of talented coffee growers, each with their unique techniques, flavor profiles, and dedication to quality. From small family-run farms to larger estates, every shop offers its own distinct character and charm. Read our full breakdown of the Best Kona Coffee Roasters here.
Kona coffee is more than just a drink; it's a symbol of tradition, culture, and community. We hope this journey through the world of Kona coffee has left you feeling inspired and curious to learn more. So, the next time you have a cup of coffee, take a moment to appreciate the rich history and complex flavors that went into producing it.